The Poole and Kent Teaching Award for Senior Faculty
This award is given to a senior faculty member for excellence in teaching. Prior to 2000, the Poole and Kent Teaching Award for Senior Faculty was known as the Outstanding Teaching Award for Senior Faculty.
Meet Our 2015 Recipient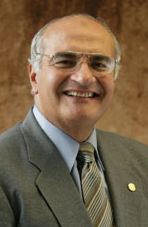 Dr. Amr Baz is a Minta Martin Professor and Keystone Professor in the Department of Mechanical Engineering, as well as Director of the Smart Materials and Structures Research Center.
Dr. Baz has a Ph.D. and master's degree in mechanical engineering from the University of Wisconsin, Madison, and a bachelor's degree from Cairo University.
Dr. Baz's teaching is distinguished by his effective approach to integrating leading edge research results into traditional course material. He also uses extensive visualization techniques to communicate content and fully utilizes web-based course support both for on-campus and distance offerings. Dr. Baz has also used his research laboratories to develop examples for demonstrating fundamental concepts discussed in his undergraduate and graduate courses.
Dr. Baz is one of the most popular teachers among our undergraduate students who consistently rank him very high for course content, clarity of instructions, and dedication to student learning inside and outside the classroom. His mentorship has been a key factor in both undergraduate and graduate career planning and achievements.
Past Recipients

2014: David Lovell, Civil and Environmental Engineering
2013: Teng Li, Mechanical Engineering
2012: Christopher Davis, Electrical and Computer Engineering
2011: Rama Chellappa, Electrical and Computer Engineering
2010: Adrian Papamarcou, Electrical and Computer Engineering
2009: Kenneth Kiger and Peter Sandborn, Mechanical Engineering
2008: Sandra Greer, Chemical and Biomolecular Engineering
2007: Mikhail Anisimov, Chemical and Biomolecular Engineering
2006: M. Sherif Aggour, Civil and Environmental Engineering
2005: K.J. Ray Liu, Electrical and Computer Engineering
2004: Guangming Zhang, Mechanical Engineering
2003: James Duncan, Mechanical Engineering
2002: David Bigio, Mechanical Engineering
2001: Nam Sun Wang, Chemical and Biomolecular Engineering
2000: Charles Striffler, Electrical and Computer Engineering
1999: William Walston, Mechanical Engineering
1998: Anthony Vizzin, Aerospace Engineering
1997: Richard Calabrese, Chemical and Biomolecular Engineering
1996: Patrick Cunniff, Mechanical Engineering
1995: John Anderson, Aerospace Engineering
1994: William Destler, Electrical and Computer Engineering
1993: Thomas Reagan, Chemical and Biomolecular Engineering
1992: Daniel Garber, Civil and Environmental Engineering
1991: James Dally, Mechanical Engineering
1990: Gary Pertmer, Nuclear Engineering
1989: David Holloway, Mechanical Engineering
1988: Frank Munno, Nuclear Engineering
1987: Isaak Mayergoyz, Electrical and Computer Engineering
1986: Clifford Sayre, Mechanical Engineering